GT Scrap is a full service ferrous, non-ferrous metal and e-scrap recycling company. Our state certified weight scales, responsible practices and friendly staff make for a rewarding way to recycle your scrap metal. We opened our doors in 2012. Since then, we've been providing top-notch ferrous and non-ferrous metal recycling services to our customers in the Metro Detroit area. We have three Metro Detroit locations: GT Eastside Recycling in Chesterfield and GT Michigan Scrap Recycling in Hazel Park.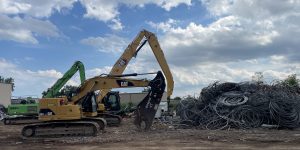 Commercial Full-Service Scrap Metal Recycling
Container Services – Rent a dumpster to deposit your scrap. Come to one of our convenient locations in Metro Detroit to pick up your container, and then drop it off after your job is completed. We have various size containers to fit your needs.
Live Load Services – One of our drivers will come to your location and take your scrap metal for you.
Specialty Hoppers – We can provide specialty hoppers for your commercial scrap metal recycling needs. The specialty hopper will be placed inside your facility, so scrap can be put in throughout the day. When all your scrap metal is disposed of in the specialty hopper, our professionals at GT Scrap will come remove it for you.
Individual Consumer and Homeowner Scrap Metal Recycling Facility
Most of the services we offer are commercial, but we also work with individuals such as homeowners who need to have their scrap metal recycled as well, like our Cash for Scrap service. How Cash for Scrap works:
Drive your truck onto one of our state certified weight scales, and then we will weigh.
Unload scrap. You can do this yourself or GT Scrap will assist.
Drive your truck onto the scale again, so we can subtract your truck's weight from your scrap's weight.
We will then tell you the value of your metal. This will depend on weight and kind of metal.
We will give you a print-out with our offer
Take your print-out to our on-site ATM. After you insert the print-out, you will get cash. It's that fast!
Our cash for scrap service is fast and convenient for individuals, companies, and schools. Get rid of your scrap metal in a safe way and get quick cash!
Ferrous and Non-Ferrous Scrap Yard Recycling
We are a full-service scrap metal recycling company, servicing schools, businesses, and individuals. Our safe and responsible practices and our fast and friendly service make for an efficient and rewarding recycling experience. Contact us today to get your scrap metal recycling service started!