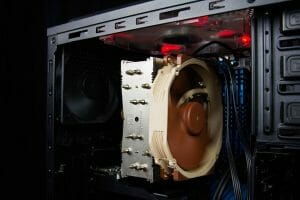 GT Scrap offers professional electronic recycling services for all residents and businesses throughout the Metro Detroit area. We offer the most competitive pricing for all your unwanted computer and electronic devices. Our electronic waste recycling experts have skills to recycle and harvest your old electronics. It's simple. You bring us your old or unused electronics and we will give you cold hard cash. We have on-site ATMs so you can get your cash on the spot!
As technology continues to improve at an increasing rate, people and businesses are accumulating more e-waste then ever before. Having the latest electronics and technological equipment has become a crucial part of our daily lives. Unfortunately, as we continue upgrading our devices, the more E-scrap we gather in our homes and offices. We understand the importance of having the most updated hardware for maximum performance and efficiency. But it is just as important to not neglect your previous electronic models. Wouldn't you want some cash return for the old devices you previously paid a hefty price for?
That is why at GT Scrap we offer top-dollar for all electronic waste. Visit either of our locations and walk away with money in hand.
Electronic Scrap Buyers: Sell Electronic Scrap
Don't throw your old electronics away! Most of your outdated devices contain precious metals that can be recycled and re-used for future purposes. It is a cash solution for all commercial businesses and residents looking to get rid of their electronic waste.
We accept a wide range of e-waste equipment as part of our computer and electronic waste recycling services including but not limited to:
PC Towers
Hard Drives
Motherboards
Circuit Boards
Servers
Cell Phones
Computers
Fax Machines
Tablets
Printers
Copy Machines
Monitors
Think twice the next time you are considering throwing your old computer or telephone away. You would be shocked to know that in the United States, a million tons of e waste ends up in landfills each year.
So, what's going to happen to your old devices if you choose not to recycle them? Well most likely they will sit in your drawers or collect dust in your basement. Eventually they will be thrown away. At that point it is most likely that your electronic waste will end up in one of our local Metro Detroit landfills. The harmful toxic materials that e-waste emits into the environment risks the lives of people and animals within our community. That is why we work with businesses and residents in Metro Detroit to take preventative measures to keep our community clean and healthy. All of this by offering a recycling solution that pays top-dollar for all unused electronics. We see our service as an environmental responsibility to our community.
Local E Waste Recycling Center in the Metro Detroit Area
Don't let your outdated or unused electronics collect dust in your closet. Bring your unwanted electronic waste to one of our two local Metro Detroit locations. Recycle your electronics at either our Chesterfield or Hazel Park location. It is the right decision instead of having your E-scrap end up in a landfill.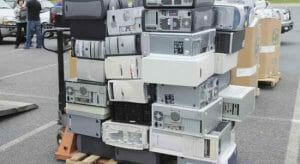 We have 30 years of experience recycling electronic waste for commercial businesses and Metro Detroit residents. Our E-scrap recycling process meets the highest standards of safety for electronic recycling. We will take care of any and all of your electronic recycling needs.
GT Scrap is committed to providing customers with an effective and profitable solution for their electronic waste problems. All while maintaining a safe and sustainable environment. Contact either of locations today to learn more about our electronic waste recycling services. We will happily answer any of your questions pertaining to our electronic waste recycling process.