At GT Scrap, we provide an array of metal recycling services for all of your needs. We offer anyone looking to sell scrap in Metro Detroit a fast and friendly scrapping process in a clean yard where you can unload your ferrous, non-ferrous and e-scrap and get cash immediately. Our professional services include: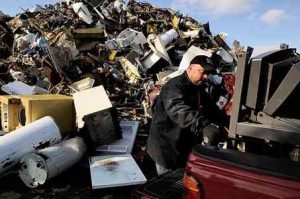 Whether you are a homeowner looking to get rid of old or broken appliances, or you run a commercial operation and need to get rid of a ton of metal-by-products, our experienced scrap metal recyclers want your scrap metal. We handle scrap recycling of ferrous metals, non-ferrous metals, dead batteries, computers and electronics.
Metal recycling is vital to maintaining a clean environment and reducing industrial costs. For years we have helped families and commercial businesses integrate metal recycling best practices in their home lives and the daily operations of their plants and factories. Our expert team at GT Scrap works with you in an effort to preserve the environment's natural resources, reduce energy expenses and harmful gas emissions.
Scrap Metal Recycling Services
With our premier full-service ferrous and non-ferrous metal recycling, you can rest assured knowing the entire process is taken care of by trusted professionals. We offer a wide range of options and can work with you to develop a custom solution for your scrap metal recycling needs. We utilize state certified weight scales to ensure accurate results, offer you the best price for your scrap metal recycling, and pay cash on the spot at our on-location ATMs. We aim to provide you with an efficient, cost-effective solution for your scrap metal with expert services you can rely on. Get it contact with us today to get your metal recycling process started!