It is vital for a commercial business to take good care of their waste and scrap by-products. Commercial scrap metal recycling not only helps the environment but increases the quality of your business as well. At G&T Scrap, we aim to provide commercial businesses with a recycling solution that is efficient and budget friendly. Our full-service commercial recycling services will ensure that all recycling needs of your business are taken care of. We have 30 years of experience in the industry serving as Metro Detroit's premier full-service ferrous and non-ferrous recycling facility. We serve all types of commercial businesses including construction, office parks, restaurants, schools, manufacturing plants and more. Leave it to us to help you reduce waste and increase returns.
Metro Detroit Business Scrap Metal Recycling
Our o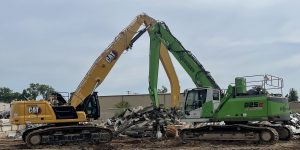 n-site commercial scrap metal recycling services include trucking, roll-off dumpsters, industrial cleanouts, and much more. We can even handle your business' computers and electronic waste that are in need of being disposed of or recycled including PC towers, hard drives, servers and motherboards. Choose from a variety of commercial recycling containers including custom container solutions to fit your business' specific needs. We also use state certified truck scales for a quick inbound and outbound weight. If your business regularly produces tons of scrap material, call on the help of the commercial recycling experts at G&T Scrap. We are here to help your business effectively minimize downtime and maximize revenue. Our experts work with you throughout the entire process to ensure your business recycling goals are met.  Let us take the hassle out of designating a recycling program for your business. We are pleased to offer complimentary consultation for your business recycling needs. Contact us for a quote today!
---