Working Hours: Monday to Friday: 8:00 AM to 4:30PM Saturday: Closed
GT Eastside Recycling is a full-service metal recycling facility. Our years of experience in the scrap metal industry and team of knowledgeable staff will make your decision to do business with us an easy choice. We offer a full range of scrap metal services including commercial recycling services, residential recycling and container solutions. We aim to serve Macomb County businesses, residential, municipalities and schools. With our commercial scrap metal recycling, we have helped numerous businesses increase returns with little downtime. We are also open to the public, whether you need to free up some extra space in your house by getting rid of an old unused appliance or you have plentiful items to scrap.
Whatever your scrap recycling needs may be, we want to buy your scrap metal and give you cash. The amount of money you can expect to receive scrapping metal depends on three factors: the type of metal, the weight of the item, and current market value. The more weight you bring in, the more you can expect to receive. Call us to learn more about our metal recycling services or stop by to sell scrap metal today!
Get Cash for Scrap Metal
Cast Iron: Old bathtubs, cast iron pots, valves, pipes, furniture, BBQ plates, and engine blocks.
Aluminum: Aluminum has the property to be recycled a limitless amount of times. You can find aluminum in soda cans, car parts, pots & pans, bike frames, sinks, faucets, patio furniture, screen doors and window frames.
Brass: Brass is one of the best metals to scrap because of the high payout. Commonly used in plumbing such as sprinklers and faucets.
Copper: Any Item that contains copper is a valid choice for scrap. Copper can be found in plumbing pipes, appliances, kitchen sinks, and electronic wiring.
Computers and Electronics: PC towers, hard drives, motherboards, and servers.
Insulated Copper Wire: Can be found in most electronics, common appliances such as refrigerators and microwaves have copper wires.
Other scrap metals we accept include but are not limited to: sheet iron, structural steel, heavy melt, borings and turnings, catalytic converters and electric motors.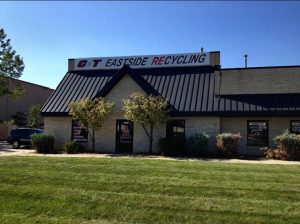 Chesterfield Scrap Metal Recyclers
If you are a Macomb County business or resident looking for scrap metal recycling, we offer a free consultation for the scrap metal services we offer. Our friendly, highly-trained staff is awaiting your call. GT Eastside Recycling is family-owned and operated. You can rely on our years in the industry and our state certified weight scale to provide you with accurate results every time. If GT Eastside Recycling in Chesterfield, MI is not in near you we also have two other locations.
GT Eastside Recycling is conveniently located at 48475 Gratiot Ave in Chesterfield, MI. 1/4-mile south of 22 Mile rd. on the west side of Gratiot Ave.