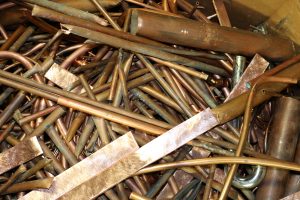 Maybe you recently cleaned out your garage. Maybe you need to declutter your tool shed. Perhaps you just need some extra money for a rainy day. In any scenario, GT Scrap recycling can help you turn your trash into cash. One way you can do this is by recycling your non-ferrous metals. Recycling these materials is a win-win for every party involved. You get to fatten up your wallet and help keep the environment clean.
Non-ferrous scrap metal is any metal or alloy that does not contain iron. These metals are not magnetic, which is one way you can determine for yourself what type of scrap metal you are dealing with. Non-ferrous metals are also more resilient when compared to ferrous ones. Non-ferrous items tend to last longer because they are more resistant to corrosion and rust.
Chances are that you probably encounter non-ferrous metals at least once during your day. Their malleable properties make them ideal for constructing objects like gutters, liquid pipes, roofing and outdoor signs. Non-ferrous metals are also at work in technology. Since they are not magnetic, non-ferrous metals are safe to use for a wide range of electronic or wiring tasks.
We Buy Non-Ferrous Metals
Common Types of Non-Ferrous Metals Include:
Copper
Brass
Aluminum
Zinc
Nickel
Titanium
Stainless Steel
Lead
Tin
Along with these, GT Scrap also recycles many other items that contain non-ferrous metals. These include but are not limited to:
Electrical Cables
Electric Motors
Batteries
Catalytic Converters
Auto Cores
Industrial Turnings,
Insulated Copper Wire
Wheels
These objects can be brought to us for recycling as long as they are not stolen. You get the most competitive pricing when you bring your scrap metal to one of GT Scrap's scrap yards in Chesterfield and Hazel Park. Unlike other scrap yards that may make you wait, we pay upfront for your scrap. Our helpful staff will even help you unload your vehicle of its contents when you arrive at our scrapyards. Just make sure you have a valid form of identification on your when you arrive. A document like a current driver's license would work just fine. We accept non-ferrous scrap metals from commercial, residential and municipal applications. GT Scrap has three Metro Detroit locations and serves the greater metro Detroit area.
If you have any questions about our policies, feel free to give us a call at (586) 949-2475 or visit one of our Metro Detroit locations for more help.