Rent a container from GT Scrap for your work site and get top dollar for your scrap metal. For government agencies, commercial demolition companies, home renovations, construction sites and more, GT Scrap offers container services in metro Detroit for your convenience. Instead of necessitating multiple trips hauling your site's scrap metal in truck beds or small trailers, our drivers will deliver a container to your site and pick it up again when it is full.
Scrap Metal Container Services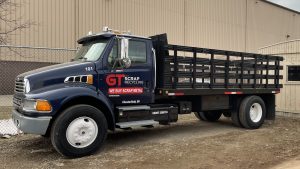 Keeping your worksite clear of scrap metal is a matter of safety as well as a logistical necessity, and convenience is key for commercial construction, demolition and renovation companies. Knowing this, GT Scrap offers a variety of container and dumpster services depending on your needs:
Rent a container to fit the needs of your worksite
Dumpster sizes ranging from 10 to 100 cubic yards
Liveload: open-top service container service for fast removal of scrap. Pick-up and delivery by GT Scrap contracted drivers
Self-dumping hoppers for moving scrap metal around an indoor work site
Costs can be deducted from the value of your scrap metal
Selling your scrap metal recycling helps your bottom line. From ferrous and non-ferrous metals to the wood, plastic and rubber incidental to most scrap metal, GT Scrap will give you top dollar and cash in-hand for your scrap metal. Call or stop by today!