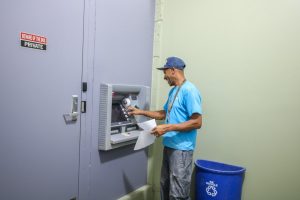 At GT Scrap, we work with the general public to ensure our Metro Detroit environment is clean, safe and healthy for all families within the community. Our consumer scrap metal recycling services contribute by allowing residents to get cash for any unused electronics, appliances, metal equipment or machinery. We have a safe and effective way for recycling all types of scrap metal. So, go look around your home, backyard or neighborhood and pick up any scrap metal.
Why have old junk cluttering up your home, when we can give you cash on the spot for all scrap materials?
Whether you are looking to purge any old kitchen appliances, or have a trailer full of miscellaneous scrap items, we have a scrap solution for you. Our scrap metal experts have the tools and skills to handle any scrap metal you may have. Our expert staff is fast, friendly and experienced, allowing us to get you in and out within a timely matter. Our Metro Detroit recycling centers are enclosed non-ferrous yards, with fully paved areas. We offer competitive pricing for your scrap metal and provide you with a rewarding consumer scrap recycling experience.
Sell Scrap Metal of All Types! Look to see what you have lying around your home! Recycle household items including but not limited to:
Refrigerators
Stoves
Furnaces
Dishwashers
Machinery
Snowmobiles
Lawn mowers/Snow blowers
Gutters
Outdoor furniture
Get Money For Scrap Metal
Scrap metal recycling is a great way to earn some extra cash while helping out the local Metro Detroit community. Recycling your scrap metal contributes to removing the necessity of mining more metal material from our Earth, resulting in a cleaner environment and more cash in your pocket!
Look and you can find scrap metal everywhere throughout the Metro Detroit area. Instead of letting your old appliances clutter up your home, bring them down to us!
We are the trusted scrap metal recyclers of Metro Detroit. Our scrap metal recycling facilities are conveniently located for consumers in Metro Detroit. We take all types of metals. From stainless steel to copper wire, you will receive the competitive market price for your scrap material.
Just load up your truck and drive on in. We weigh your truck with the scrap material in it. After, remove all the recycled material and weigh yourself again. We give you money based on the weight and type of metal you have brought us. We have on-site ATMs for your convenience!
Two Scrap Metal Recycling Locations
You can bring your scrap metal and e-waste to either one of our Metro Detroit scrap yards and receive cash for your scrap. Michigan law does require at least a 7 day wait for all non-ferrous metals, including copper alloy. Our skilled experts at GT Eastside and GT Michigan are here to take your scrap metal off your hands! Our goal is to free you of any old appliances and scrap metal that is taking up space in your home. We then will recycle your scrap metal in a sustainable and environmentally-friendly manner.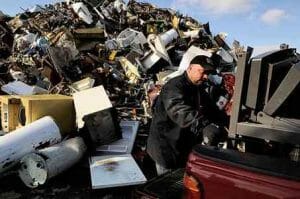 Whether you're taking on a renovation project, decluttering the garage or simply upgrading your appliances, we have the scrap metal recycling solution for you. Not only will you receive cash on the spot but you will also be helping by keeping our Metro Detroit community clean.
We buy all ferrous metals including steel and iron. We also will take any non-ferrous metal you have including aluminum brass and copper piping. We aim to provide you with a fast and efficient residential scrap recycling experience. We are the scrap metal buying experts of Metro Detroit! For more information on our scrap metal prices and consumer recycling service contact one of our convenient locations today or fill out our free online form.